Okay - so lets talk shoes. Yeah, I'm not getting married for a year and a half and I don't know where yet, but I'm a shoe girl. I also would like to have at least a pair of shoes to take dress shopping, because I'm pretty much confined to flats and I know that if I want a short dress, I have to be comfortable with what shoes I can wear with it. (Short dresses look so good with cute barbie heels!) Unfortunately, I'm a shoe girl with bad feet. So while I am in love with
these
:
$281 is a lot for shoes, and its a lot for shoes I will probably only realistically get to wear once, and that may very well break my feet.
I think something like this is more reasonable: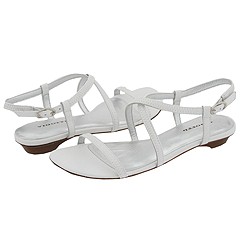 However, I don't even spend $80 on shoes I wear every day (I should, but I'm cheap.) I'll probably go to Nordstrom Rack at some point and see what I can find - I have a friend's wedding coming up that I need shoes for anyway, so I can at least wear them and see how comfortable they are.