This is one of my personal favorite shower ideas - host some kind of cooking class or demonstration. If you have a friend or family member who is a pretty good cook, start with them. You can also check with
The Pantry
and other local caterers who might be interested in offering some kind of service. The big issue for this is where to host it. Ever since I found out that all my church (Cedar Lane down in Montgomery County) charges for members to rent it is a custodial fee, I've considered whether we could have my bridal shower there, to save my parents the trouble and stress of having all my family members and friend invade the house. Bonus - there is a giant kitchen there which would be great for some kind of cooking demonstration or class. My current church, First Unitarian, might be willing to let us use their kitchen as well - possibly for a fee, or in exchange for some kind of service to the church. Any church or community center with a kitchen might be willing to let you rent their space.
Another idea that I have seen, that might very well be "tacky" is to have a Pampered Chef bridal shower. We spoke to some people at the Atlantic Catering open house about doing it, and I honestly really liked the idea. Except for how tacky it is. But the Pampered Chef folk do a cooking demonstration, and you register with them, and they bring a giant science fair board to the shower that has pictures of what you want, and then your guests buy you the items they want to get you in lieu of bringing a gift. Can anybody come up with a way for me to justify having a shower like this that somehow doesn't scream "tupperware party bridal shower! tacky! tacky! tacky!"? (I have considered hosting a "registry party" instead, in which I host a cooking show and decide on what to register for there at the show. Plus it could be co-ed.)
There actually isn't anything about a cooking shower that says "girls only". Most couples I know cook together, so why not have a fabulous co-ed shower?
The Invites: There are a lot of options, but my favorite idea is to do a recipe postcard. Perhaps if you are an Elvis Fan...or you can make your own using Vistaprint or any other postcard printing service - perhaps with a picture of you and one of your
signature dishes
.
Another idea is to write out the invite like it is a recipe for something. Take a cue from this recipe card invite for a cookie swap (and who says you can't have your shower be a cookie swap?):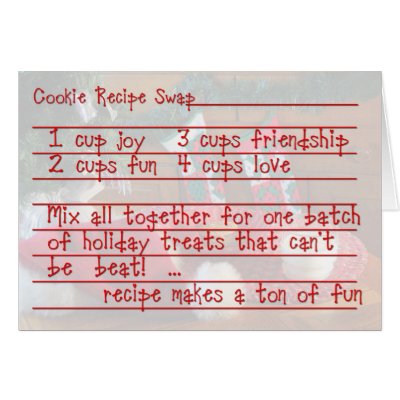 The Food: You can either have it be delicious food that you make at the lesson or during the demonstration, or food made in advance. I can't help feeling, though, that the food for a gourmet class should be homemade. (Another favorite food shower idea of mine is a potluck shower in which everybody brings a dish and a recipe and some kind of tool that is specialized to making the dish, like cookies with a rolling pin and icing with a hand mixer or casserole and a casserole dish, etc.)
The Fun: The cooking lesson/show! This is a great option for people who don't want to play stupid games. Another idea is to have some kind of "at home" iron chef - maybe bride vs. groom, if you're going co-ed, and have the MOH/BM pick the "secret ingredient"; or have the bride pick the secret ingredient and pit the MOB/MOG against each other (my Mom would so lose, unless this was a takeout-ordering-iron chef...secret ingredient is..."telephone!"). There are all kinds of other options as well - this is the only kind of shower for which I think "sniff the condiment" is acceptable (pass around jars with mystery ingredients and smell them to determine what they are). Also, perhaps a recipe mad-libs game.
The Gifts: Uh. Cooking related stuff. This is where I run into problems with my "no registry gifts at the shower" rule. In this case, I'm somewhat willing to make an exception, but you have to make sure that your registry has a lot of other stuff on it - it's not fair to your guests who aren't invited to the shower if all the good stuff gets bought off the registry before they can get to it. Make sure the registry has a lot of linens and other things that you need, not just kitchenware. Also, encourage your guests to get creative - showers are great because the guest is there, watching you open the gift, and when you hold up the thingy and go, "wtf?" they can say, "that's a cannoli stuffer!" In the spirit of the potluck party, the shower host/hostess can simply ask guests to include a recipe with their gift so you can use it. This gives excellent fodder for thank you notes later as well, in which you say, "I loved making mini lemon bundt cakes with the mini bundt pan you gave me. Please come over for dessert sometime so I can make them for you!" Or even, "I tried to make lemon meringue pie in my new pie pan but the crust melted and fell and lit the oven on fire. Please come show me how to do it properly!"
The Favors/Prizes: This is my favorite part. A lot of the wedding websites have goofy things like bride and groom salt and pepper shakers, or a perfect "pair" salt and pepper shakers, or a "love" cheeseknife or tiny fondue sets, etc. I say for favors, if your cooking lesson & registry and tastes tend more towards baking, consider cookie cutter favors. You can buy a jumbo set of cookie cutters for $10-20 and your guests can choose what shape they want; or you can go with something more
wedding-y
. Bonus - tie them with a great sugar cookie recipe. Or one of the bridesmaids can gather recipes from everybody in advance and make little cookbooks and hand those out as favors.
For prizes, I say go uber-practical. Heat resistant silicone spatulas (run $5-10); a cookie scoop; a flexible spatula (great for cookies and fish); a set of wooden or nylon spoons; potholders, trivets, a coated whisk - any of these things are must-haves and can-never-have-too-manys. (Maybe the cookie scoop. I'm projecting. I want one.)
Another idea - instead of a guest book, use a recipe book and have guests sign pages or annotate recipes that are similar to what they make.
Sorry this post has been so long and overwhelming - I just get a little excited when it comes to food. I know there's more great ideas for food-themed showers out there, so keep 'em coming.